Local News
These Canadian Cities Really Love Their Tim Hortons & Here's What They Ordered Most In 2022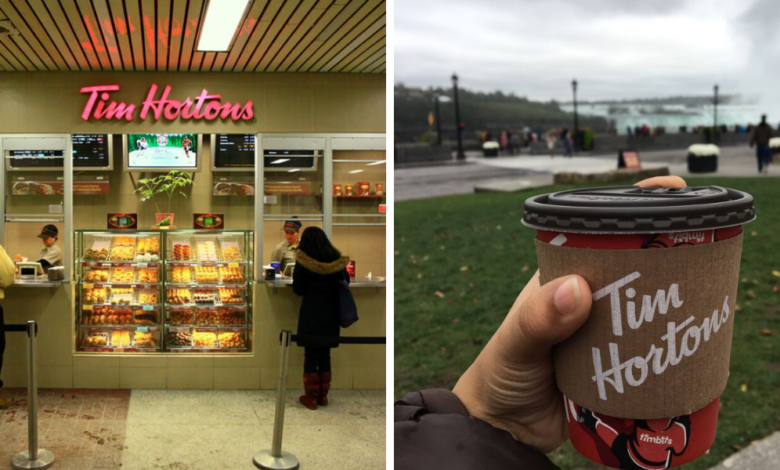 It is no secret that Tim Hortons is one thing of a nationwide treasure right here in Canada.
Effectively, everyone knows the espresso retailer is in style right here, however the model simply named which Canadian cities and cities are the "greatest followers" of its well-known merchandise, and it is most likely not what you'd count on.
To start with, the Canadian metropolis with the best per capita gross sales for his or her Authentic Mix espresso, is none aside from Miramichi, New Brunswick. Who would have thought?
Timmies has crunched the numbers and found that sure Canadian cities and cities have their very own native preferences on the subject of their brew. And you'll inform loads about a spot by its Timmies orders!
For instance, on the subject of the classics, it appears to be like just like the place having fun with probably the most lattes is Dorval in Quebec.
In the meantime, Langford, British Columbia, is the place that loves its Americanos probably the most whereas most espresso pictures had been offered in Windsor, Ontario.
Charlottetown in Prince Edward Island and Timmins in Ontario apparently want their drinks chilly, making the listing attributable to their devotion to iced coffees and quenchers respectively.
Prince George, in B.C. prefers its caffeine within the type of tea lattes whereas Cape Breton in Nova Scotia is the largest fan of steeped teas.
In relation to meals, most Farmer's Wraps had been consumed in Port Hope in Ontario whereas Niagara-on-the-lake, additionally in Ontario, loves the loaded wraps.
The model additionally shared some lesser-known info about their merchandise in 2022… like the truth that friends in Winnipeg purchased probably the most Tim Hortons mugs, whereas probably the most canned soups had been bought in Calgary.
It has been a little bit of a rocky 12 months for Timmies general, what with a lawsuit, and a recall involving insects (yuck!).
Nevertheless it appears to be like just like the model is ending the 12 months all proper, and has already launched some new packaging for 2023.
This text's cowl picture was used for illustrative functions solely.
window.REBELMOUSE_ACTIVE_TASKS_QUEUE.push(function(){
window.runAfterPageLoad(function(){ window.REBELMOUSE_STDLIB.loadExternalScript("https://cdn.onthe.io/io.js/N5LFW2jTVvxd", function() { }); });
});
window.REBELMOUSE_ACTIVE_TASKS_QUEUE.push(function(){
!(function (f, b, e, v, n, t, s) { if (f.fbq) return; n = f.fbq = function () { n.callMethod ? n.callMethod.apply(n, arguments) : n.queue.push(arguments); }; if (!f._fbq) f._fbq = n; n.push = n; n.loaded = !0; n.version = "2.0"; n.queue = []; })( window, document, "script", "https://connect.facebook.net/en_US/fbevents.js" ); fbq("init", "371443559942562"); fbq("track", "PageView");
window.runAfterPageLoad(function(){ window.REBELMOUSE_STDLIB.loadExternalScript("https://connect.facebook.net/en_US/fbevents.js", function() { }); });
});
window.REBELMOUSE_ACTIVE_TASKS_QUEUE.push(function(){
window.runAfterPageLoad(function(){ window.REBELMOUSE_STDLIB.loadExternalScript("https://www.anrdoezrs.net/am/8067239/impressions/page/am.js", function() { }); });
});
window.REBELMOUSE_ACTIVE_TASKS_QUEUE.push(function(){
window.beOpAsyncInit = function() { BeOpSDK.init({ account: "620ace10185a040c0d78e38b" }); BeOpSDK.watch(); };
window.runAfterPageLoad(function(){ window.REBELMOUSE_STDLIB.loadExternalScript("https://widget.beop.io/sdk.js", function() { }); });
});
window.REBELMOUSE_ACTIVE_TASKS_QUEUE.push(function(){
window.teads_analytics = window.teads_analytics || {}; window.teads_analytics.analytics_tag_id = "PUB_12989"; window.teads_analytics.share = window.teads_analytics.share || function() []).push(arguments) ;
window.runAfterPageLoad(function(){ window.REBELMOUSE_STDLIB.loadExternalScript("//a.teads.tv/analytics/tag.js", function() { }); });
});
window.REBELMOUSE_ACTIVE_TASKS_QUEUE.push(function(){
window.runAfterPageLoad(function(){ window.REBELMOUSE_STDLIB.loadExternalScript("https://ctxtfl.com/scripts/js/p.js?id=1Pw320GVt3CeYkJrf9UCAgOq9", function() { }); });
});
window.REBELMOUSE_ACTIVE_TASKS_QUEUE.push(function(){
let elementContext = document.querySelectorAll(".rebellt-ecommerce");
window.addEventListener('DOMContentLoaded', (event) => { function addChanges(item) { let productName = document.querySelector("h3").textContent; let productPrice = document.querySelector(".rebellt-ecommerce--price"); //let buyBtn = item.querySelector(".rebellt-ecommerce--btn"); let myText = document.querySelector(".media-caption ~ p"); //let myPrice = item.querySelector(".rebellt-ecommerce--price").childNodes[2].nodeValue;
let createElem = document.createElement("div"); createElem.textContent = productName; let textCopy = myText.cloneNode(true);
createElem.classList.add("myProductName"); createElem.classList.add("rebellt-ecommerce--vendor"); textCopy.classList.add("myTextCopy"); productPrice.appendChild(createElem); productPrice.after(textCopy); //buyBtn.textContent = buyBtn.textContent + " " + myPrice;
elementContext.forEach(function (Item) { addChanges(item); }); } });
});
window.REBELMOUSE_ACTIVE_TASKS_QUEUE.push(function(){
if (!window._rmxd) { window._rmxd = {}; }; window._rmxd.theme = window.matchMedia("(prefers-color-scheme: dark)").matches ? "dark" : "light"; window._rmxd.gamTargeting = { "category": ''+fwjson.category+'', "contentid": ''+fwjson.id+'', "keywords": ''+fwjson.tags+'', "lang": "en" };
var audioplayer = document.querySelector(".audio-player");
function deferedCode(){
var script = document.createElement("script"), placeTag = document.getElementsByTagName("script")[0]; script.async = true; script.type = "text/javascript"; script.src ="https://tags.remixd.com/player/v5/index.js"; script.charset = "utf-8"; script.id = "remixd-audio-player-script"; audioplayer.appendChild(script);
}
window.runAfterPageLoad(deferedCode)
});
window.REBELMOUSE_ACTIVE_TASKS_QUEUE.push(function(){
const links = document.querySelectorAll(".content-recommendations .recommendation a");
links.forEach( ( link ) => { const ahref = link.getAttribute("href"); link.setAttribute("href", ahref + "?utm_medium=recirculation&utm_source=narcity.com&utm_campaign=content-recommendation"); } );
});
window.REBELMOUSE_ACTIVE_TASKS_QUEUE.push(function(){
var skimlinks_settings = { skimlinks_exclude: ["airbnb.com", "airbnb.ca", "airbnb.fr"] };
window.runAfterPageLoad(function(){ window.REBELMOUSE_STDLIB.loadExternalScript("https://s.skimresources.com/js/94645X1549135.skimlinks.js", function() { }); });
});
window.REBELMOUSE_ACTIVE_TASKS_QUEUE.push(function(){
var _sponsored = ""; var _nsfw = "false"; var post_id = document.querySelector('article').getAttribute("elid"); var nsfw = 546863483; var fr_vedette = 549266910; var sponsored = 549961341; var post = JSON.parse(document.querySelector(".post-context-" + post_id).innerHTML); if (post.post.sections.includes(fr_vedette) || post.post.sections.includes(sponsored)) { _sponsored = "true"; } else _sponsored = "false"; if (post.post.sections.includes(nsfw)) { _nsfw = "true"; }; var fwKeywords = JSON.stringify({ category: __a_cat, culture: __article_subcategories, nsfw: _nsfw, sponsored: _sponsored, tags: postTags, city: postCity, id: post_id }) var fwjson = JSON.parse(fwKeywords) var params = "&firework=storyblock-bottomleft&lang=en&category="+fwjson.category+"&culture="+fwjson.culture+"&nsfw="+fwjson.nsfw+"&sponsored="+fwjson.sponsored+"&keywords="+fwjson.tags+"&city="+fwjson.city+"&contentid="+fwjson.id
function deferedCode(){
var script = document.createElement("script"), placeTag = document.getElementsByTagName("script")[0]; script.async = true; script.type = "text/javascript"; script.src ="https://asset.fwpub1.com/js/storyblock.js"; placeTag.parentNode.insertBefore(script, placeTag); document.head.appendChild(placeTag); var bodycontent = document.querySelector(".fireworkblock-sidebar-player"); bodycontent.insertAdjacentHTML("afterbegin", '
Canada TV
')

} window.runAfterPageLoad(deferedCode);

});

Source link