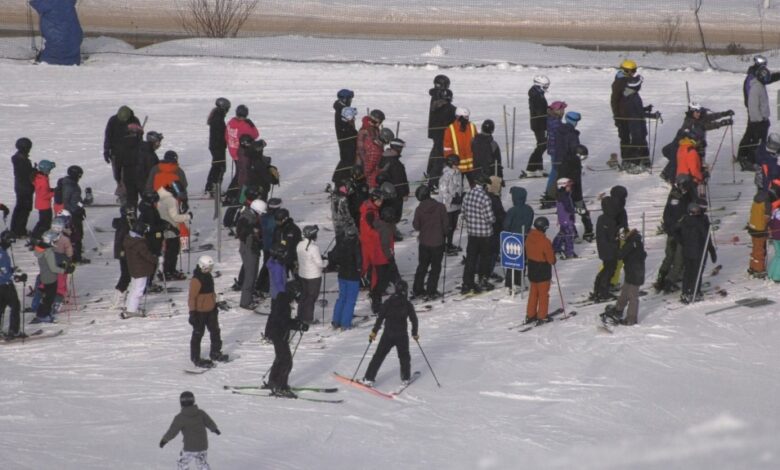 New Brunswick's 4 ski hills, together with Mont Farlagne, Sugarloaf, Crabbe Mountain, and Poley Mountain, are actually all open for the season.
Poley Mountain in Waterford had been aiming for a pre-Christmas begin, however in the end opened Dec. 26.
Jamie Hare, normal supervisor of Poley, stated the back-and-forth swings between gentle and frigid temperatures prevented snowmaking skills till lately.
"These cooler temperatures are welcome, particularly at evening, to assist us make slightly little bit of snow," stated Hare.
Snowmaking machines blasted powder onto Poley trails Wednesday, the place a whole bunch of individuals hit the slopes and daytime temperatures sat a number of levels beneath freezing.
"I'm grateful to be on skis at this time," stated Debi Breau. "With the climate we've been having, it's been unpredictable. However they made it occur."
In the meantime, ski hills in Nova Scotia and Prince Edward Island are hoping to proceed with an prolonged stretch of chilly circumstances.
"We're a small-knit group and we're hoping they will open shortly," stated Hare.
On Prince Edward Island, the Mark Arendz Provincial Ski Park at Brookvale confirmed its season would start Thursday after success in making and maintaining snow.
In Nova Scotia, Martock, Wentworth, Ben Eoin, and Cape Smokey are all reporting progress in making snow. Nonetheless, not one of the Nova Scotia ski hills had a confirmed opening date, as of Wednesday night.